Hey #MuseMafia, 
So it has been quite some time since I last wrote a blog, and I've been contemplating starting it back up just because of the inconsistent post schedule...but I decided to anyway.  I just love writing, and it's a great way to keep everybody updated on...well...everything. 
I'm in the midst of I guess what I'd call a "transitional year."  When New Years 2019 was happening, I truly thought, Oh wow, this is it! 2019 is my bitch! This is my year!  I was wrong.  This year, planets are doing their retrograde this and that and lots of other things are backwards, too, and I'm blaming all of that on the stars and 2019 as a whole.  I am at a place I feel everything that could go wrong absolutely has, and now I'm about midway through that tunnel and starting to build anticipation for the light on the other end.  It's okay, you can call me dramatic.  I am.  It won't hurt my feelings. 
A lot of you know about my guitar getting smashed on Southwest Airlines in early August.  I played a quick show with K102 up in ID and was in and out in less than 24 hours.  Talk about tired.  I landed at LAX and opened my case — I had checked the guitar because my case is pretty heavy duty and I have literally flown with it a bajillion times and never had an issue — and saw that my beautiful Taylor 714CE that I'd played countless shows with (including American Idol and the Idol tour) was almost falling apart.  There were massive cracks that I later had assessed that went through the entire top piece of wood, as well as stress cracks throughout because it looked like it had been smashed.  There was what looked to be an "impact point" on the side of the guitar, near the input jack, so I imagine it was thrown…but I don't really know what happened.  Anyway, I raised hell (as you all know and expect of me by now) and Southwest had me get a repair estimate by a luthier (over 40in of cracks and over $1k in damage), and they decided to completely replace the guitar since they had compromised the sound of mine forever.  At least they took responsibility and spoke with me, one-on-one.  The lady's name was JoAnne and she never even had to ask me for my incident number (I'm sure they were like, "Oh shit…it's the guitar girl again!!!!" whenever I called), but she handled my case and was really graceful about it…even when Southwest had to send me a reimbursement check and forgot to include the sales tax and whatever other costs typically get tacked onto a pricey item like that.  So here I am, waiting for Alabama football and that last check from Southwest so I can pay off my credit card for the month! 
I also want to take a minute and acknowledge Luna guitars.  While I was growing up, I actually played a Luna for quite some time.  They had just sort of come about — at least to my knowledge — and I thought they were so aesthetic and had a decent sound.  Well, they do, and my new koa wood baby is no different (see the picture from Luna's website below!).  The moment I posted (when I raised hell about my smashed Taylor) about the guitar incident on Southwest, Luna was one of the first to retweet and send me a DM.  The guy's name was Adam, and he went above and beyond and told me to literally pick any Luna from their site and they'd send it to me, free of charge.  It's a beautiful guitar, and it was like Christmas to come home and see it in the living room.  So yeah, thank you Luna.  You went above and beyond when you didn't even know me and definitely didn't have to.  That's deserving of some major love.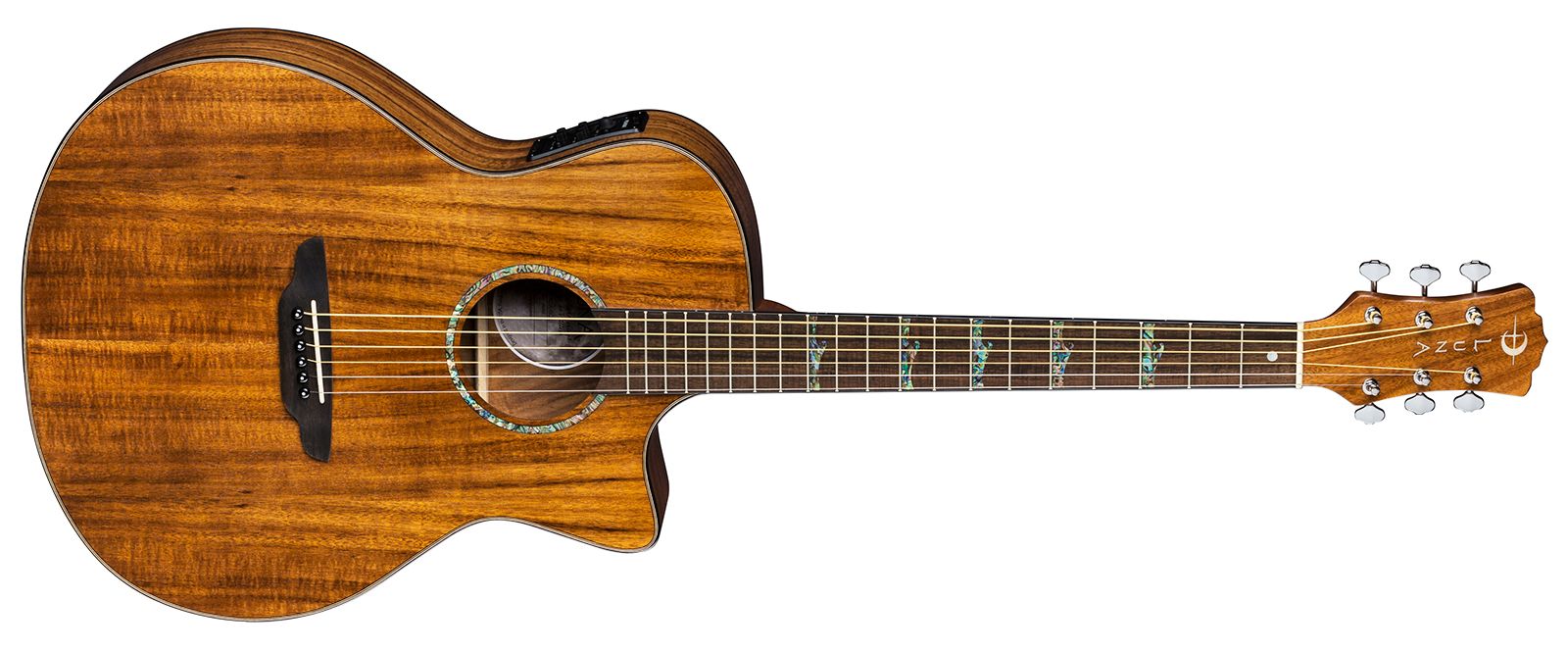 That's pretty much all there is to update right now.  I have a few upcoming gigs, and of course you can find them here, on BandsinTown, as well as on my Facebook page.  I'm working on revamping everything in the coming months — my goal is for 2020.  If you guys have any ideas as far as cool designs and items that you'd like to see, let me know.  Also, I'm making a list of venues and I would love to know where you'd like to see me play! 
I will try to update this again soon!  Thanks for reading, y'all, and have a great weekend! 
Roll tide!
J